Yoga is my happy place. A place where I can re-center, refocus, and renew my sense of calm but also a place where I can get the boost I need to energize my day!
In a world where things are so upside down right now, it's been hard to take the time to focus on me and what I need. I try to find little moments in my day to calm the storm we live in. It's taken a long time to find the perfect place for me to practice yoga, and now with the ever-changing climate, some days I just can't find the energy to get out to my favorite yoga at the farm. In addition, sometimes I just need a good cardio-infused yoga class to jump-start my day and get me moving forward to get things done.
Having a streaming platform like Bulldog Online Yoga makes working out both fun and convenient and it allows me to focus on my yoga practice from the comfort of my home, on vacation, and even when traveling and staying in a hotel or condo. I love that I can even take my yoga practice outdoors when the weather permits as well.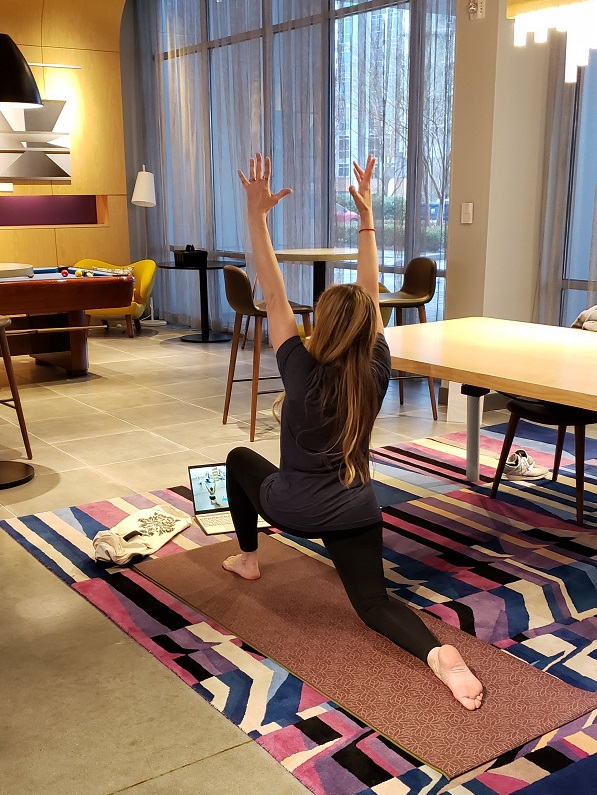 Bulldog Online Yoga provides an array of yoga class styles, that are cardio -infused, all of which you can enjoy conveniently in an online format that is perfect for anyone, from beginners to experienced yogis.
Kick-start your personal yoga experience with a great cardio workout, build strength, relieve stress, and get your stretch on with easy-to-use apps for your computer, phone, and Smart TV. With fitness-fueled full body workouts, Bulldog Online Yoga offers a group yoga experience any time, any place with no intimidation — on your schedule. I cannot tell you how much I love this program.

Want to get your whole family into yoga? Bulldog Online Yoga offers Yoga for Beginners + Yoga for Kids & Teens. These classes focus on warmups, basics, flexibility, balance, and bedtime yoga. What? That's right — yoga to relax and unwind from the day and prepare you for a good night's rest. Who wouldn't love that? Trust me...kids these days need ways to detox from the day and unwind. I for one am grateful I have two teenagers who see the benefits of yoga practices such as these.
With classes that range from 10 to 60 minutes, as well as the privacy and at-home convenience, there are sure to be plenty of classes that will satisfy any yogi in your family. In addition, all classes are set to custom Spotify playlists that'll have you smiling, sweating, and forgetting that you're in a yoga workout class.
This week we've been on a family ski trip. Imagine my pleasant surprise to find a specific Snowsportin' Yoga class in the Bulldog Online Yoga catalog. My son and daughter enjoyed the class with me before we headed out on the slopes to be sure we were warmed up for the physical demands skiing can take on us.
I love how this streaming platform puts a fun spin on traditional yoga with the variety it provides as well. My teens loved the music selection and the ease of classes that kept them engaged.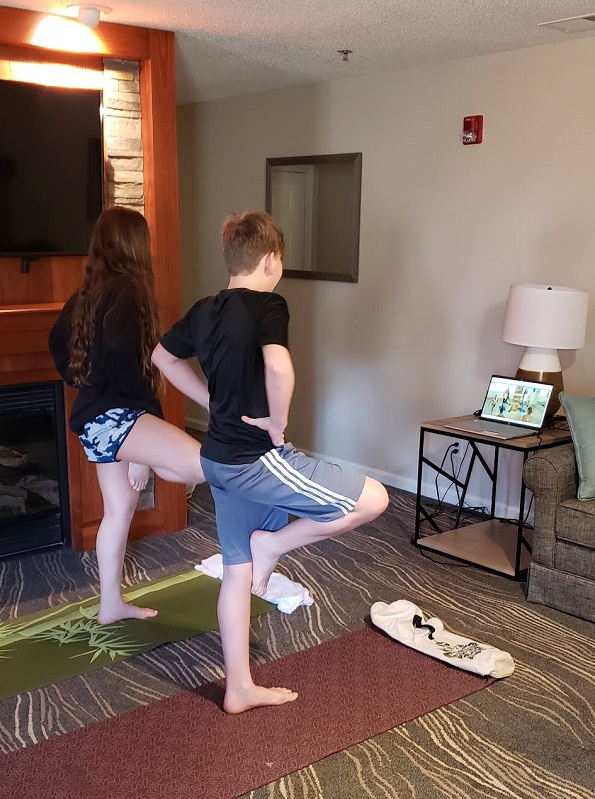 MacKid Dads will also be excited to learn that Bulldog Online Yoga offers Yoga for Bros.
In addition, the Sports related yoga classes are perfect for any athlete; even my ice hockey goalie son. Yoga is well known in the hockey community as a way to help goalies get in their needed stretches and keep them limber for games and practices.
Last weekend my son took some classes before his hockey tournament. The weather where we were didn't allow for team pre-game warm-ups outdoors, so he had to modify his pre-game routine. The Stretch Focused and Hips & Hammies classes were perfect.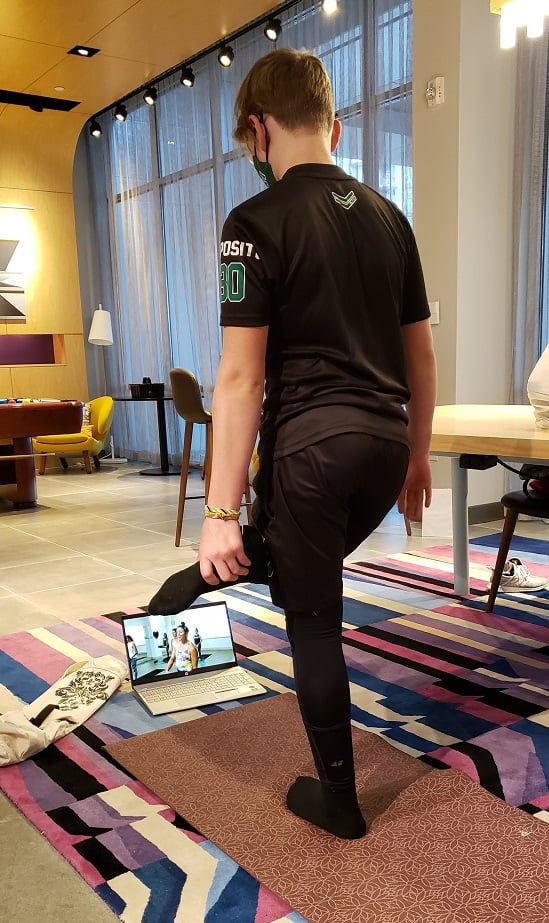 Some of you may know that I've had a dream of getting my yoga teaching certificate for years. I will be honest... nothing has been holding me back from this dream more than my own lack of self confidence and motivation. I'm hoping that by being able to jumpstart my yoga practice again with Bulldog Online Yoga, I will regain my focus and gain the confidence to pursue this dream.

Bulldog's founder kept hearing people say that traditional yoga was too slow and serious — and often felt intimidating. That's why Bulldog Online offers a unique group yoga experience with full body workouts, upbeat music, and simple instruction for all levels — from beginners to expert yogis. If this sounds like something you've felt or thought before about yoga, now is the perfect time to give Bulldog Online Yoga a try!
Grab your FREE 30 Day Trial + 25% off your first month of Bulldog Online Yoga with this amazing deal from CertifiKID
**Bulldog offers a 30-day free trial period so you can try it out and see if you like it. If at any time you feel it's just not for you or your family, that's fine too. Simply cancel during your trial and you won't get charged a dime.
GET SOCIAL WITH BULLDOG ONLINE YOGA
*Disclaimer: I was provided access and membership to the Bulldog Online Yoga platform as compensation for the facilitation of this review, however, all opinions and views are genuine and my own.